This site is intended for U.S. healthcare professionals only.
Important Risk
Information
Only HepaGam B® [Hepatitis B Immune Globulin Intravenous (Human)] is approved by the FDA, based on a pivotal clinical study, to prevent HBV recurrence following liver transplantation in HBsAg-positive patients2-4
A significantly lower rate of HBV recurrence following liver transplantation (8.3% vs 85.7% for historical controls)2

Recurrence was defined as the development of detectable serum HBsAg and/or HBeAg between Days 28 and 365 following liver transplant (LT)5
Proportion of patients with HBV recurrence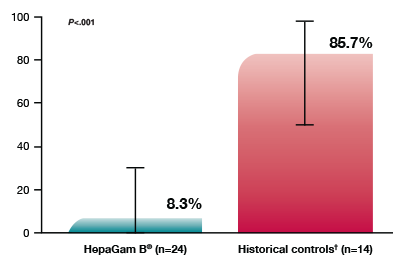 Survival advantage documented in secondary end-point analysis5
Only HepaGam B® has shown a one-year survival benefit (96% vs. 43% for retrospective control patients)2
Two adverse reactions were observed in clinical trial subjects
who received HepaGam B®—hypotension and nausea2
Clinical trial in liver transplant patients2
The effectiveness of HepaGam B® in the prevention of hepatitis B recurrence following liver transplantation was studied in a multi-center, open-labeled, superiority study involving HBsAg-positive/HBeAg-negative liver transplant patients. The study arms included:
An active treatment group (n=27) enrolled to receive HepaGam B® starting during transplant and continuing over the course of a year

A retrospective untreated control group (n=14) of historical patients with data gathered by chart review
HepaGam B® Dosing Regimen for HBV-Related Liver Transplant Patients
| | | | |
| --- | --- | --- | --- |
| Anhepatic Phase | Week 1 Post-Operative | Week 2-12 Post-Operative | Month 4 Onwards |
| First dose | Daily from Day 1-7 | Every two weeks from Day 14 | Monthly |
Dosage volume is consistent with published protocols2,6
The FDA approval of HepaGam B® for the prevention of hepatitis B recurrence following liver transplantation in HBsAg-positive patients is based on the dose of 20,000 IU used in the pivotal clinical trial

Total dose should be calculated based on the measured potency stamped on each 5 mL vial label: this provides a dose that is consistent with published protocols
HepaGam B® Intravenous Infusion Rate‡
Route of Administration

Dosage

Infusion Rate

Intravenous

20,000 IU per dose

2 mL/minute

Decrease to 1 mL/minute or slower if the patient develops discomfort or infusion-related adverse reactions
‡HepaGam B dose adjustments may be required in patients who fail to reach anti-HBs levels of 500 International Units per liter within the first week post-liver transplantation. Patients who have surgical bleeding or abdominal fluid drainage (>500 milliliters) or patients who undergo plasmapheresis are particularly susceptible to extensive loss of circulated anti-HBs. In these cases, the dosing regimen should be increased to a half-dose (10,000 International Units calculated from the measured potency as stamped on the vial label) intravenously every 6 hours until the target anti-HBs is reached.2
Dosing Calculation Example
Recommended Dose of HepaGam B®

Potency

Calculation

Based on the 20,000 IU dose in the FDA-approved labeling

575 IU/mL
(stamped actual potency)

Target dose ÷ measured potency = number of mL
mL ÷ mL/vial = number of vials

20,000 ÷ 575 = 34 mL
34 ÷ 5 = 6.8 (7 vials)
Do NOT use the measured potency on the vial of HepaGam B® to calculate a 10,000 IU dose. This will result in significant underdosing as compared to published protocols.